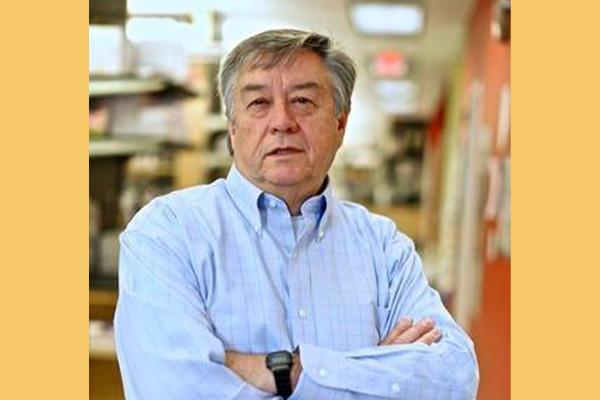 Editor's note: The following statement was released Monday, April 25, by Mary E. Klotman, MD, dean of the School of Medicine, and Scott Soderling, PhD, chair of the Department of Cell Biology.
It is with profound sadness that we inform you of the passing of Marc Caron, PhD, James B. Duke Professor of Cell Biology, Professor of Neurobiology and Professor of Medicine.
Dr. Caron also was a member of the Duke Cancer Institute and Duke Institute for Brain Sciences.
An authoritative and prolific scientist, Dr. Caron spent all but two years of his 47-year career at Duke. He studied the mechanisms of action and regulation of hormones and neurotransmitters and how they might underlie brain and behavior disorders such as schizophrenia, Parkinson's disease, attention-deficit hyperactivity disorder, mood disorders and addiction. Among his many achievements, Dr. Caron and his colleagues engineered and characterized a large number of genetically modified mouse models to analyze the foundations of these various brain disorders. In a groundbreaking study, his team identified a novel mode of signaling for the brain's dopamine D2 receptors, which are principal targets of antipsychotic medications.
Dr. Caron also contributed to the discovery of how receptor signaling is regulated by kinases and arrestins, and he defined the molecular signals for their endocytosis and recycling as functional entities. His genetic gain and loss-of-function models provided evidence for the importance of GPCR regulation through kinases and arrestins and identified one of the first in vivo examples of G protein- versus arrestin-mediated GPCR signaling. Dr. Caron mentored many trainees, and followed them through their own careers with encouragement and advice.
Among his many honors, Dr. Caron was an investigator of the Howard Hughes Medical Institute from 1992 to 2004, a member of the American Academy of Arts & Sciences and a fellow of the American Association for the Advancement of Science. In 2005, he received the Julius Axelrod Award from the American Society for Pharmacology and Experimental Therapeutics. Dr. Caron authored more than 650 publications and served as editor or editorial board member of several leading journals including the Journal of Clinical Investigation.
Dr. Caron received his BSc in Chemistry from Laval University and his PhD from the University of Miami. He completed a postdoctoral fellowship at Duke University. He joined the faculty of Laval University School of Medicine as an assistant professor in 1975, and then returned to join Duke's faculty in 1977.
Please join us in extending our sincerest condolences to Dr. Caron's family, friends and colleagues. Memorial service details will be forthcoming.