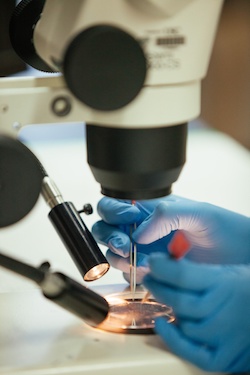 Duke requires all research staff (faculty, staff and research scientists) to undergo training in Responsible Conduct in Research at least once every three years. Postdocs are required to keep their RCR training up-to-date by taking a refresher every three years, and graduate students follow the training schedule of the graduate school.
 
The Department of Neurobiology is committed to creating and maintaining good, reliable data and scientific rigor to ensure proper application of the scientific method using the highest standards in the field. The Science Culture and Accountability Plan offers overall best practices as well as best practices in experimental design, data analysis and statistics, data management, and publication. It also provides information about creating a functional and proactive scientific culture and the steps the Department will take to ensure high standards for data collection and management as well as proper scientific conduct.
 
Science Culture and Accountability Plan
To satisfy departmental requirements:
For everyone: read the Science Culture and Accountability Plan, and sign the on-line attestation

For new employees as part of onboarding: Read the Science Culture and Accountability Plan, and send an email to Samuel Kamau, the Neurobiology Business Manager, indicating you have read the plan. Please refer questions to Steve Lisberger, the Department Chair.
For everyone: complete one level 100 (on line, self-directed) and one level 200 (collaborative, in-person) RCR course every 3 years. More info ​
To report concerns, contact the Department Chair Steve Lisberger or fill out the Duke Neurobiology Whistleblower Form.
Related Links