---
The Bill Hall Prize for Excellence in Graduate Student Research is an annual award recognizing one or two senior graduate students who have made impactful and excellent contributions to knowledge. The award honors William C. Hall, a former primary faculty member of the Department of Neurobiology. Bill was an extraordinary electrophysiologist and anatomist who made seminal contributions to our knowledge of the circuitry and function of the superior colliculus. We are grateful to Terry Wu, a former graduate student of Bill Hall's, who created the award and supports the honorarium annually.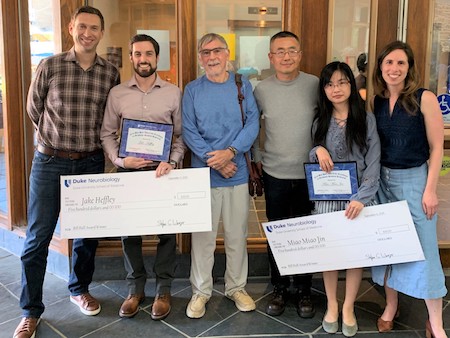 Pictured: 2019 awardees Jake Heffley and Miaomiao Jin with mentors Court Hull and Lindsey Glickfeld, flanking Bill Hall and Terry Wu.
---
Previous awardees are:
2013: Shenyu Zhai (Ryohei Yasuda lab)
2014: Edward Stanek (Fan Wang Lab)
2015: Anders Nelson (Rich Mooney Lab)
2016: Justin O'Hare (Nicole Calakos Lab) and Alexandra Bey (Yong-Hui Jiang Lab) 
2017: Erica Rodriguez (Fan Wang Lab)
2018: Timothy Darlington (Steve Lisberger Lab)
2019: Jake Heffley (Court Hull Lab) and Miaomiao Jin (Lindsey Glickfeld Lab)
2020: Thuy (Twee) Hua (Fan Wang Lab)
2021: Alex Vaz (Nicolas Brunel Lab)
2022: Jenny Li (Lindsey Glickfeld Lab)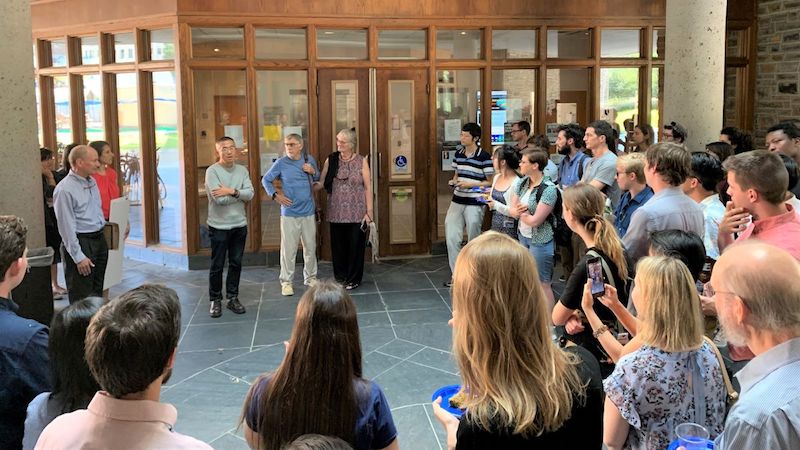 Terry Wu speaks about Bill Hall at the 2019 Award Ceremony.