2022 Annual Retreat
September 28 - 30, 2022
Wrightsville Beach, NC
2021 Annual Retreat
After the beach trip was canceled, we improvised a small, (masked) local retreat at The Cotton Room in Durham's Golden Belt. We missed the guest speakers and ocean views, but still had a great time sharing science. We also managed to squeeze in an outdoor happy hour at the nearby Ponysaurus brewery, enjoyed by all!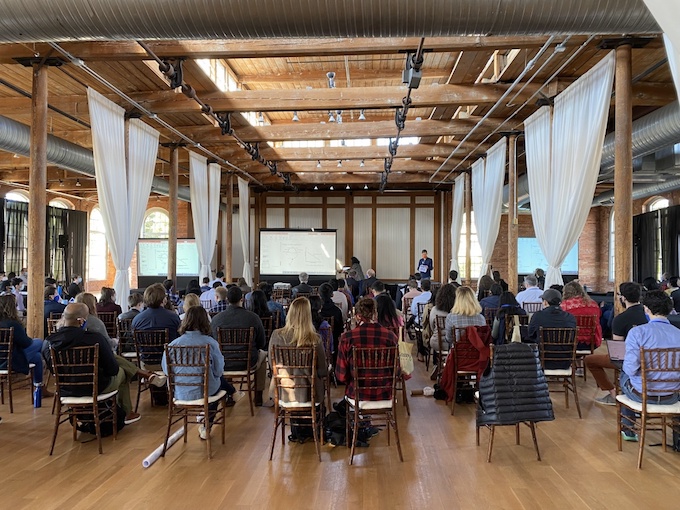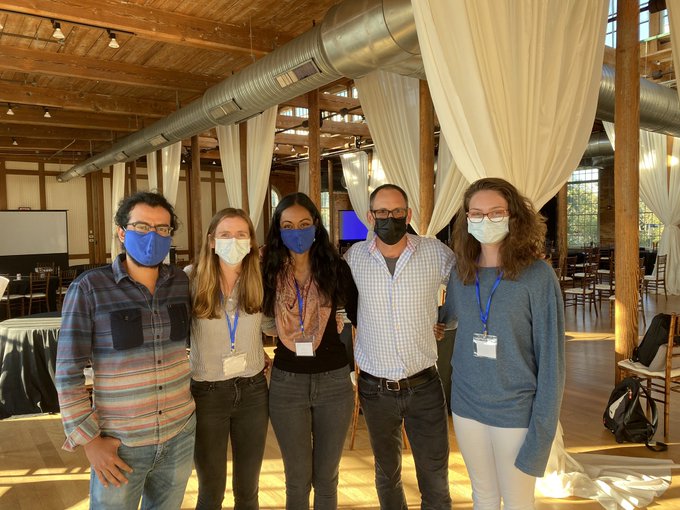 2019 Annual Retreat
September 25 - 27, 2019
Wrightsville Beach, NC
2019 Retreat Award Winners
Talks:
Caley Burrus, Graduate Student, Eroglu Lab, "Striatal Projection Neurons Require Huntingtin for Synaptic Connectivity and Longevity"
Elizabeth Fleming, Graduate Student, Hull Lab, "Evaluating Pattern Separation in the Cerebellar Granule Cell Layer"
Yael Grossman, Postdoc, Dzirasa Lab, "State-Specific Control of Complex Social Behavior using Closed-Loop Optogenetics"
Miaomiao Jin, Graduate Student, Glickfeld Lab, "Perceptual Roles of Mouse Higher Visual Areas"
Xin Luo, Postdoc, Ji Lab, "Macrophage-Neuron Interactions Differentially Regulate Pain in Male and Female Mice"
Suva Roy, Postdoc, Field Lab, "Mosaic Organization in the Mammalian Retina"
Alex Vaz, Graduate Student, Brunel Lab, "Replay of Cortical Spiking Sequences Mediates Human Memory Retrieval"
Posters:
Emily Griffith Burke, Lab Affiliate, Glickfeld Lab, "Understanding the Neural Basis for Orientation Discrimination"
Mariah Hazlett, Graduate Student, Anne West Lab, "Epigenome Editing at a Fos Enhancer Modulates Activity-dependent Fos Induction in the Hippocampus"
 Ashley Martfeld, Postdoc, Grandl Lab, "Understanding the Effects of Human Diseasing-Causing Mutations on Piezo Function"
Caitlin Paisley, Graduate Student, Kay Lab, "Mechanisms Underlying the Developmental Death of Retinal Astrocytes"
Miranda Scalabrino, Postdoc, Field Lab, "How Faking Retinal Gene Therapy can Inform us About Real Gene Therapy"
Meredith Schmehl, Graduate Student, Groh Lab, "Probing the Auditory Periphery with McGurk Stimuli"
Divya Subramanian, Graduate Student, Sommer Lab, "Discriminative Rather than Bayesian Models are Used for the Categorical Judgment of Visual Stability Across Saccades"
Jun Takato, Postdoc, Wang Lab, "Neural Circuit Mechanism of Whisking Rhythm Generation"
2018 Annual Retreat
September 27, 2018
Durham, NC
2018 Retreat Award Winners
Best Poster, Graduate Student: Aashutosh Vihani - Semiochemical detection in the mouse main olfactory system exhibits experience-dependent plasticity
Best Poster, Postdoc: Amanda Lewis, Ph.D. - Structural determinants of inactivation in mechanically activated Piezo ion channels
Graduate Student Talk: Shataakshi Dube - Chemicogenetic analysis of the presynaptic cytoskeleton
Graduate Student Talk: Maxwell Gillett - Unsupervised learning of sequential activity with temporally asymmetric Hebbian learning rules
Graduate Student Talk: Matthew Kearney - An actor critic circuit in the songbird enables vocal learning
Postdoc Talk: Maya Kaelberer, Ph.D. - Transduction of a gut sense
Postdoc Talk: Kevin Bolding, Ph.D. - Recurrent cortical circuits implement concentration-invariant odor coding
Best Faculty Talk: Eva Naumann, Ph.D. - Neural architecture for visual motion processing in the zebrafish
Ig Nobel Prize Talk: Anne West, M.D., Ph.D.
2017 Annual Retreat
September 27 - 29, 2017
Wrightsville Beach, NC
2017 Retreat Award Winners
Best Grad Student Talk:  Jake Heffley - A New View of Cerebellar Learning
Best Grad Student Poster:  Matt Kearney - The songbird VTA integrates opponent evaluative signals for vocal learning
Best Postdoc Talk:  Amanda Lewis, Ph.D. - Transduction of repetitive mechanical stimuli by Piezo1 and Piezo2 ion channels
Best Postdoc Poster:  Lupin Yin, Ph.D. - The songbird VTA integrates opponent evaluative signals for vocal learning
Best Grad Student Talk Runner Up: Janani Sundararajan - Circuit mechanisms of movement‐related changes in auditory detection
Best Grad Student Poster Runner Up: Miaomiao Jin - Role of mouse higher visual areas in detecting orientation and contrast changes
Best Postdoc Poster Runner Up: Thomas Ray, Ph.D. - Sequencing and proteomic approach illuminates mRNA and protein isoform diversity and their contributions to neural development and disease
Best Lab Participation: Field Lab
2016 Annual Retreat
September 28 - 30, 2016
Wrightsville Beach, NC
2016 Retreat Award Winners
Best Postdoc Poster: Joseph Rittner, Ph.D.
Best Postdoc Talk: Katie Tschida, Ph.D.
Best Student Poster: Janai Sundararajan
Best Student Talk: Jeff Stogsdill
Best Lab Participation: Calakos Lab
Best 2nd Year Student Poster: Shataakshi Dube
Best Interactive Poster: Jonnathan Singh Alvarado
Most Creative Student Talk: Erin Hisey
Most Creative Talk Introduction: Anne West, M.D., Ph.D.