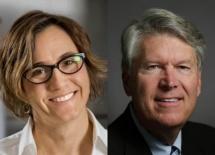 Researchers at Duke University School of Medicine have been selected to lead two inter-institution team grants totaling $18 million to investigate Parkinson's disease.
The awards from the Aligning Science Across Parkinson's (ASAP) initiative position Duke as a national leader in understanding the origins and development of this devastating movement disorder.
Duke's coordinating lead investigators for the two research projects are Nicole Calakos, MD, PhD, Lincoln Financial Group Distinguished Professor of Neurobiology and Neurology, and Rodger Liddle, MD, Professor of Medicine.
"This is an exciting moment for Duke, and an exciting moment for anyone with or affected by Parkinson's disease," Calakos said. "Duke has been invested in Parkinson's for a long time, but this funding launches a new era because of the depth and diversity of new opportunities we will have to understand, fight, and prevent this insidious disease."