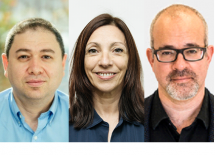 Duke's Bass Connections selected Ornit Chiba-Falek, Boris Kantor, and Misha Angrist's project under the Brain & Society theme. Their project, Gene Therapy in Alzheimer's Disease: Novel Therapies and Ethical Aspects of Somatic Gene Editing, will advance development of new gene therapy technologies that will target age-related brain diseases such as Alzheimer's disease. Students will conduct research on Alzheimer's disease etiology and mechanisms using cutting-edge genome editing technologies and state-of-the-art stem cell techniques.
Bass Connections is a university-wide initiative that brings students and faculty together to tackle complex societal challenges. Working in interdisciplinary research teams, students of all levels collaborate with faculty, postdocs and outside experts to conduct cutting-edge research.
Students gain greater exposure to inquiry across the disciplines, partner with unlikely fellow thinkers and receive sustained mentorship in an ambitious team-based environment. Bass Connections project teams also engage with a diverse array of local and global partners, including nonprofits, universities, school systems, hospitals, government agencies and private companies.
Read more about it here.