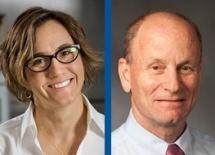 Two of the six Duke University faculty members named Fellows of the American Association for the Advancement of Science (AAAS) today are faculty in Neurobiology. The prestigious appointment is obtained through peer nomination and is based on scientifically or socially distinguished efforts to advance science or its applications. The AAAS elected 489 new fellows this year.
A virtual induction ceremony for the new fellows in the organization's 24 sections will be held on Feb. 13, 2021.
Nicole Calakos, MD, PhD, Lincoln Financial Group Distinguished Professor of Neurobiology, was elected for pioneering work in optogenetic approaches, and substantial contributions in the area of synaptic plasticity with a focus on striatal circuity of the basal ganglia.
Stephen G. Lisberger, PhD, George Barth Geller Distinguished Professor for Research in Neurobiology and department chair, was elected for fundamental contributions to understanding of the organization and function of brain mechanisms that underlie sensorimotor learning, using visually-driven eye movements as a model system.
A full list of the Duke University inductees can be found on Duke Today.