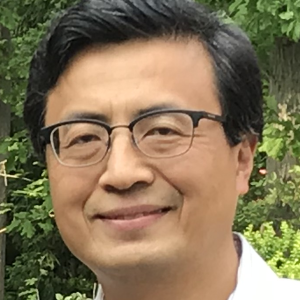 In August of 2020, Duke Neurobiology welcomes Dr. Josh Huang as a primary faculty member. Josh is joining the department after a 20-year tenure at Cold Spring Harbor Laboratory (CSHL), the world-renowned research and educational institution in Long Island, New York regarded as the cradle of molecular genetics.  His independent lab at CSHL focused on using a genetic approach in the mouse to explore the neural circuit basis of brain development and function.  Josh recently found time to answer a few questions for us.   
Why did you choose to join the faculty in the Department of Neurobiology?
"My tenure at CSHL has allowed me to sharpen my vision, build tools and experimental systems, and make significant discoveries. My research program's growth in the past few years also made it clear that my research could benefit from as well as contribute to a larger scientific community. I increasingly draw knowledge and inspiration from human neuroscience and primate studies.  I value a broader base in developmental, cell and molecular biology, and seek more interactions with engineering and computation colleagues. The rich and vibrant research environment across the Duke Campus includes all these areas and more, and the Science and Technology Initiative at Duke is an inspiring vision. So here I am."
What are your research interests?
"My long-term interest is to understand how neural circuits of the cerebral cortex enable cognitive function. The neocortex is the seat of human mental prowess as well as the origin of devastating neuropsychiatric disorders. An enduring challenge in neuroscience is to decipher how mental activities, from sensorimotor control to cognitive processing, emerge from the cellular constituents of the cortex that assemble progressively higher-level functional architectures. The diversity of nerve cells and their wiring complexity have been major obstacles for progress. The overarching theme of my research is a genetic dissection of cortical circuits in the mouse through systematic targeting of its basic elements, the neuronal cell types.
We have made decisive progress in the genetic targeting of GABAergic inhibitory interneurons and glutamatergic pyramidal neurons. These powerful genetic tools allow us to leverage experimentally accessible neuron types as a solid middle ground to navigate across levels of organization. Along the way, we have made discoveries on the developmental specification of these cell types, their molecular genetic underpinning, their experience-dependent plasticity, and more recently their function in sensorimotor processing. This experimental paradigm and the associated tools also provide rich opportunities for collaboration with other laboratories in the Neurobiology Department and other faculty in basic science and clinical departments, and engineering school. I am truly looking forward to this exciting endeavor."
Are there any major research grants you are currently working on?
"This is a particularly exciting time to be working on the fundamental cellular basis of brain organization and function. Fortunately, we have received continued support from the NIH and the US BRAIN Initiative. I am about to receive another major BRAIN grant to systematically develop large-scale transcription enhancer-based viral vectors for targeting brain cell types that can be applied to other animal species beyond mice. Cell type access is a major bottleneck across current biomedical research fields and this grant will help our lab further develop the next generation of specific, efficient, cost-effective, and general methods to study cell types across organs and species."
What is your approach to mentorship/teaching?
"My approach is to identify important, even though often challenging problems that inspire the postdocs and students. I try to equip them with the best technology, link them to good collaborators, and then give them significant freedom to explore. I am not good at micro-managing, but I am always excited to discuss new ideas and results. I also spend a lot of time and effort to coach their presentation and writing, including rebuttal to reviewers of their manuscripts." 
What are your interests outside of the lab?
"When I am not thinking about science and research, I like reading history and biographies. I enjoy playing tennis and listening to music, especially classical music. I was a violin player through my school years and now aspire to play more.
My wife Dr. May Lim is a radiation oncologist who recently started her job at the UNC REX Cancer Care of East Raleigh. Our oldest daughter is a junior at Washington University in St. Louis, and our younger daughter just started as a junior at Cary Academy. 
My family is especially looking forward to exploring Duke Gardens in different seasons and visiting the Lemur Center. I certainly hope to enjoy the sports and cultural events post-pandemic. And we will definitely be exploring the mountains and coast in North Carolina."