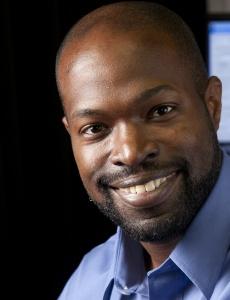 A Duke scientist is one of ten researchers selected for a prestigious fellowship by the American Association for the Advancement of Science. 
Kafui Dzirasa, MD, PhD, associate professor of psychiatry and behavioral sciences, has been selected as one of the 2019-2020 AAAS Alan I. Leshner Leadership Institute Public Engagement Fellows. The fellows were chosen for demonstrating leadership and excellence in their research careers as well as for having an interest in promoting meaningful dialogue between science and society.  
This year's fellowship theme is human augmentation, or technologies that enhance human productivity or capability. Dzirasa's research interests focus on understanding how changes in the brain produce neurological and mental illness, with the ultimate goal of producing neuroelectrical stimulation remedies for these diseases. 
"The focus of this year's fellowship on 'human augmentation' is particularly timely for me given the rapid advancements in human brain-machine interface that are just over the horizon," said Dzirasa.
Another Triangle scientist, Tracey du Laney, PhD, director of science and technology development at NCBiotech, also received the award.  For a full list of fellows, please visit AAAS.