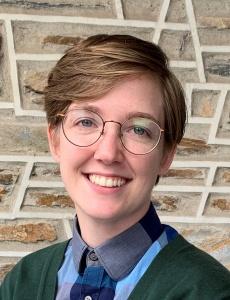 Congratulations to Neurobiology grad student Maddie Clark (Bilbo Lab) who just received a fellowship from the Kenan Institute of Ethics to spend this spring as a Teaching on Purpose Fellow! 
Teaching on Purpose brings doctoral students and faculty together on a weekly basis to explore what it means to be a good teacher of undergraduates and to learn educational practices that will help their students flourish.  
Clark is committed to inspiring students to think about the world around in new ways and to grow in self confidence. Her answer to what she finds most rewarding about teaching undergraduates? "It is a joy to see students in the moment reevaluate their belief systems about the world, and explore what they want their place in it to be. Further, it is rewarding longitudinally to see students implement the new ideas they have learned functionally in their thinking about the world." Clearly a purposeful teacher in the making!