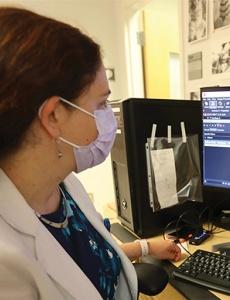 The computer screen in Cagla Eroglu's lab is teeming with activity. A computer mouse cursor moves freely around a large, crimson blotch (an image of a mouse brain cell) in the center of the screen as numbers and graphs are updated on the left side of the screen.
The thing is, no one is sitting at the computer. But this is no ghost in the machine.
"Right now, somebody is connected to this computer and working remotely on computational image analysis," says Eroglu, PhD, associate professor of both cell biology and neurobiology, whose lab is in the Nanaline Duke Research Building.
Welcome to the new normal – for now ­– across Duke's medical research campus. Remote connectivity, reduced staff working on staggered schedules, mandatory masking, and social distancing are the new protocols while the campus continues to live in a COVID-19 world.
When Duke University went into partial lockdown in March, only a few, select labs that are working on a COVID-19 vaccine and treatment were allowed to remain open. The majority of labs were shuttered for safety reasons, sending thousands of lab workers home, and forcing investigators to scrap or pause aspects of their research. Full story