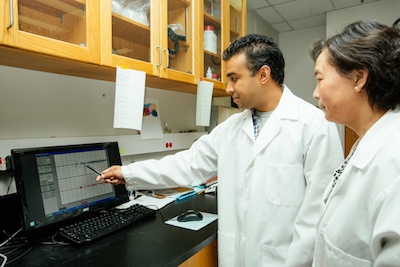 Duke Neurobiology is committed to training future leaders. Please consider supporting our mission by making a gift today. 
The Neurobiology Research Fund supports innovative programs, faculty research projects and interdisciplinary research collaborations in Duke Neurobiology. 
The Neurobiology Education Fund supports educational and training experiences for graduate students in the Neurobiology Graduate Training Program. These funds provide opportunities for our students to participate in cutting-edge research projects, attend national meetings and conferences, and join interdisciplinary collaborative research efforts.
The Neurobiology Community Fund supports activities that promote collaboration, interaction, and community.
To make a tax-deductible 501 (c)(3) contribution, complete your gift online by clicking the links above or via mail. Make checks payable to Duke University, and note the specific fund you would like to support in the memo line. Checks should be mailed to:
Duke Department of Neurobiology
Alumni & Development Records, Duke University
Box 90581
Durham, NC 27708-0581
When you finalize your donation, you may direct it to a specific laboratory if you wish.
Your gift has an immediate impact on the quality of life and education for our students.
Have additional questions regarding your donation?
Contact Director of Development Emily Espenshade at 919-385-0068 or emily.espenshade@duke.edu